Fiber Optic Tron Dance Jumpauit WL-0244

Produced by Hunan Future Creative Technology Co.,Ltd.Formerly Known as Changsha Tianchuang Stage Costume Co.,Ltd.
 Features & Advantage:
The most professional LED costume manufacturer in China.
Notice: All of our costumes are made of Future patented LED strip or full color fiber optic. Not common LED strip in the market or traditional EL wire.
Software Supply:
This software is an exclusive editing software developed by Hunan Future Creative Technology Co., Ltd. specially for luminous clothing. The operation is very easy to understand, and the synchronization rate is very precise. It can edit hundreds of different types of luminous clothing at the same time, You can also import music and clothing at the same time, and the effect of editing the program in the simulation mode is clear at a glance.
Support three kinds of controllers at the same time:
① ordinary SD card controller;
② 433 wireless synchronous controller;
③ 2.4G wireless real-time controller.
 The software supports online real-time control, and can also copy the created programs for offline control.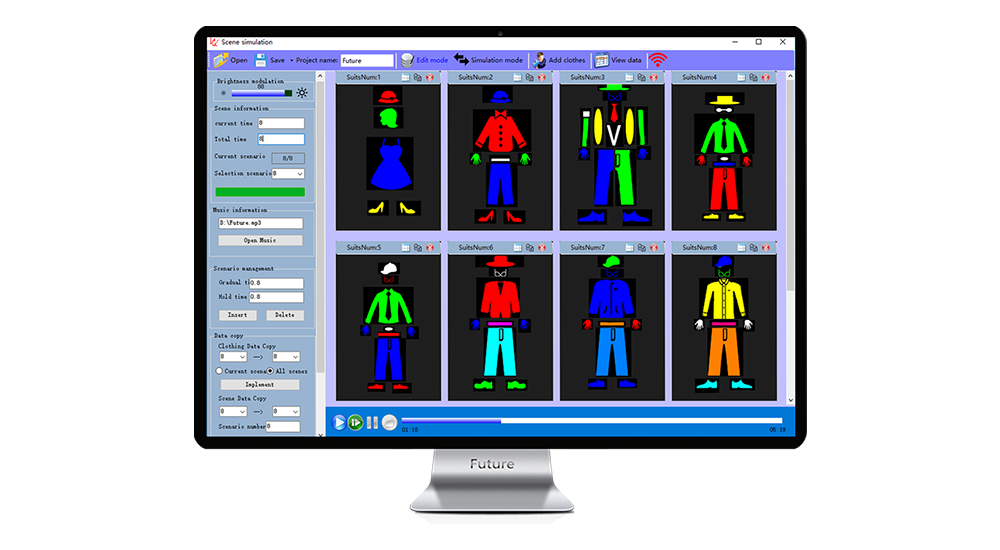 Optional Accessories:
1.15000mAh Mobile power bank
2. 6000mAh Mobile power bank
3. 433 Wireless Sender & Receiver
4. Synchronous SD card controller
5. R/F remote controller
Remark: Contact us, we will make your suggestions!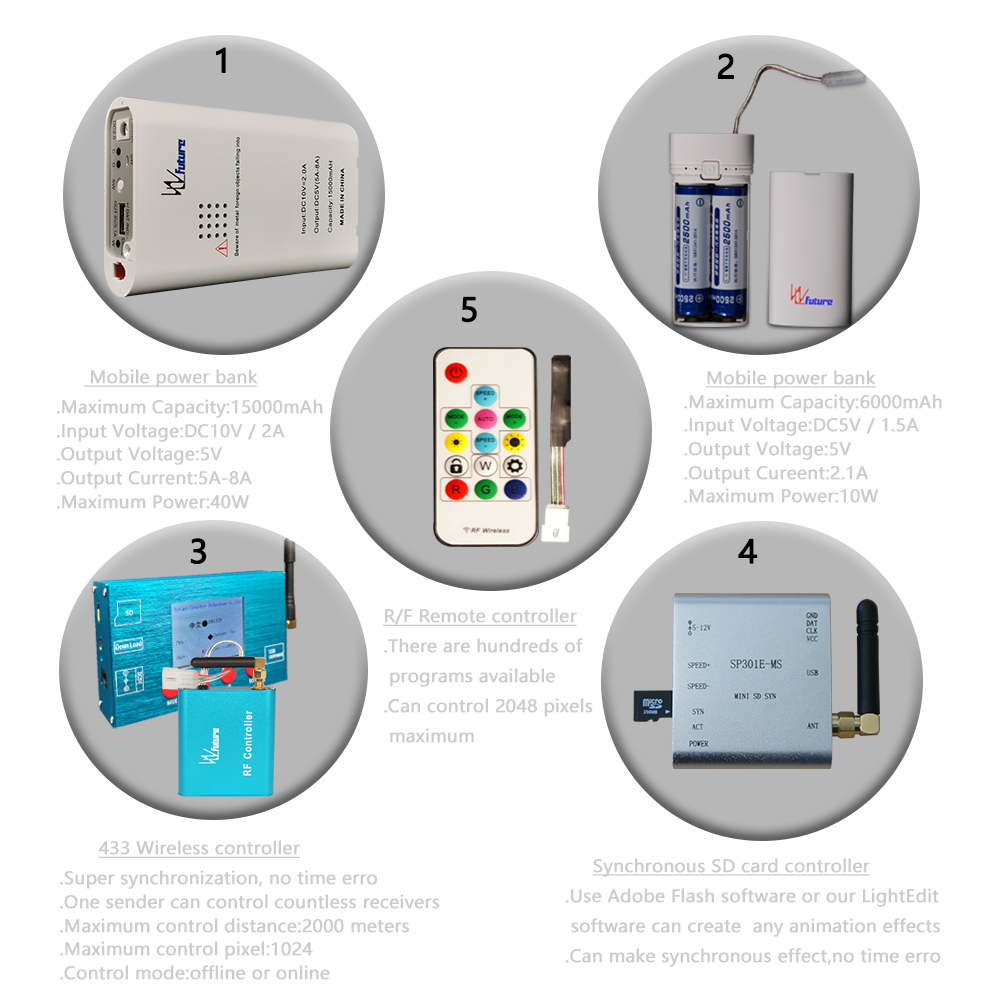 Company Information
Main products:
LED Costumes  Fiber Optic Clothing Neon Dance Costumes LED Light Costumes RGB Color Changeable Costume LED Jumpsuits LED suits LED Clothes LED Hat & Cap LED Shoes LED Dress LED Skirt LED Gloves  Light Headwear LED Props  Super Mobile Power Bank For Costume LED Light Strip For Suit Cool LED Robot & Stilts walker robot costumes Flexible LED Strip For Costume Programming Software For Led Costume  433 Wireless controller 
About us:
Hunan Future Creative Technology Co.,Ltd is the world's leading manufacturer of LED costumes & accesories, integrate in creative electronics, intelligent development design and productions. We offer competition, safety and stability, reliable product solutions & services for customers in acting and lighting business, for creating customers value and opportunities continuous. Our special unique product are: special synchronous controller for costumes, special mobile power bank(DC5V、5A-8A)for costumes, and special control system for costumes.
Our program engineer & costume designer in this field more than 20 years, have incomparable & very rich experiences. And we have experienced sales managers, provide you excellent before-sale and after-sale services.
It can be said without exaggeration that, so far, we are the best LED luminous clothing factory in China. Our products quality & design is No.1 in China.
Warmly welcome customization through drawings, pictures and samples.
Delivery & Shipping:
Payment term:T/T,PayPal,Western Union
Sample:7-10 working days upon receipt of cost and size, sample is not free
Shipping:By DHL/FedEx/EMS or by Air/ Sea as per Qty or as your requirements
Lead time:Generally,the quantity below 5 pcs is 7-15 working days
Shipping time:5-10 days after confirmation by video and picture
MOQ:1 Piece